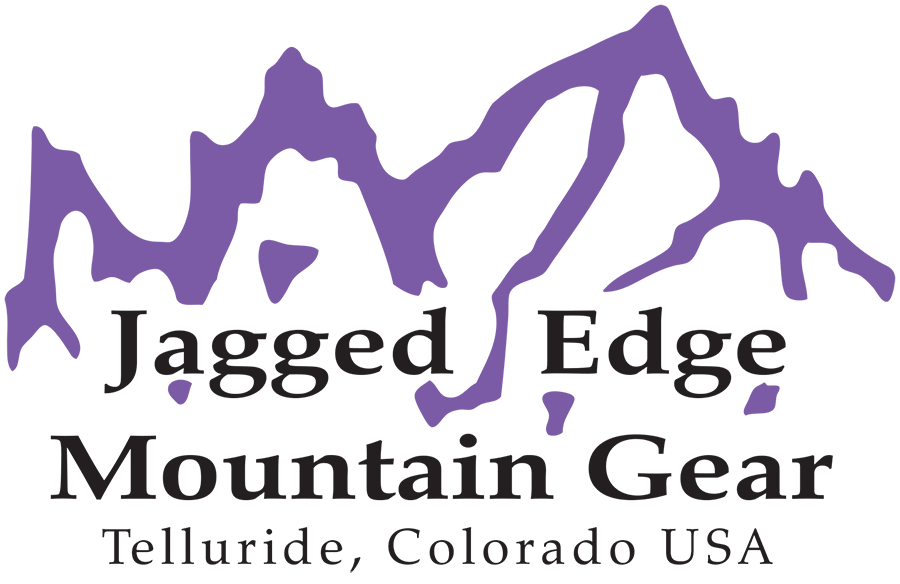 Located in picturesque Telluride, CO Jagged Edge Mountain Gear truly captures the Colorado entrepreneur/outdoor enthusiasts spirit that thrives in Colorado
The History of Jagged Edge Mountain Gear
Over twenty years ago, two ambitious young women, (twin sisters Margaret and Paula Quenemoen), launched the Jagged Edge Mountain Gear brand, inspired by big mountains and climbs in both Colorado and the Himalayas, and fueled by a passion for creativity and expression.
The women started out by selling their handmade headbands from a push cart in Telluride Colorado in the early 90s'.  But as they gained notoriety for their durable fabrics and great designs, and as Telluride itself grew rapidly as a ski resort town, their business quickly blossomed into a very successful technical apparel store on Main Street.  
Eventually their success and rapid growth lead them to manufacturing clothing in Asia, operating stores in mountain towns throughout Colorado, a catalog business, and a distribution business (with retailers like Eastern Mountain Sports) selling their clothing throughout the U.S.
Operational issues that were difficult to overcome led to the original business being sold to its current owner, the Dalton family in 2003. To keep the business going, the operations were down-sized to just the store in Telluride, which was moved to its current location at the East end of Main Street.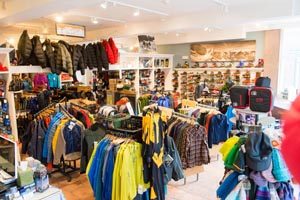 Over the next 10 years, Jagged Edge built its iconic reputation by offering the very best technical mountain gear, from the most respected manufacturers from around the world.  The store has become a hub for outdoor enthusiasts from all over the U.S. and abroad because of the quality of their products and their very knowledgeable sales team who are "the real heroes" of the Jagged Edge experience.  These experts in their respective outdoor disciplines love nothing more than sharing their knowledge and experience of the outdoors with others; (experience with rock climbing, kayaking, trail running, backcountry hiking and backpacking, mountain biking, mountain climbing, stand-up paddle boarding, backcountry skiing and snowboarding).
For years, Erik Dalton (pictured below) sought to reacquire the Jagged Edge Mountain Gear trademark (which was sold to another company when the original business was sold in 2003) so he could bring back the Jagged Edge brand of apparel; and in 2014, these efforts were finally successful.
Times have changed since the business was originally founded in the early 90s' and with it, so has the vision for how Jagged Edge products would be brought to market.
What Makes Jagged Edge Mountain Gear Special
When Jagged Edge last manufactured product in the early 2000s, it had succumbed to the outdoor industry norm of depending on a remote supply chain based mostly in Asia.
In fact today, as noted by industry expert Kurt Gray, "..except for a hand-full of exceptions (including Jagged Edge) most outdoor gear and apparel is made on the other side of the planet."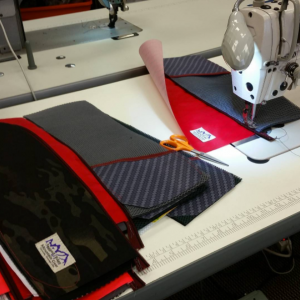 This manufacturing model is not what Jagged Edge owner and mountain enthusiast Erik Dalton had in mind for his new product line.  As someone who has a deep love for the environment and sustainable practices, it was a fortuitous meeting when Erik was introduced by a former Jagged Edge employee to Kurt Gray.
Both Erik and Kurt are committed to making products in the U.S. where as Kurt notes, "production cycles are shortened, environmental laws are followed, labor dollars stay close to home, there's less waste and glut and ultimately, it consumes a much smaller carbon footprint…it's better for everyone; ourselves, our local communities and the planet."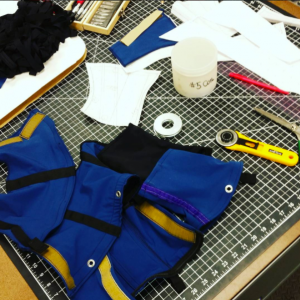 Currently, Kurt manages all of Jagged Edge's manufacturing with a small team in a shop in Broomfield, Colorado.  With access to operators, technicians and various supply chain necessities for sewn goods manufacturing, this shop in the Boulder-Denver corridor is in an ideal location.  
Moving forward, both Kurt and Erik are looking to grow this space into a bigger design and production facility that can serve both an expanded Jagged Edge product line as well as other home-grown companies looking for production space.
But there's more to the Jagged Edge "Made in U.S.A." strategy. Not only are they manufacturing products themselves right here in Colorado, they are producing products in small-batches with almost exclusively made in America fabrics and materials including; Polartec, Brookwood, Ideal and Dimension Polyant. The exception is Swiss-made Schoeller Dynamic used in outerwear. The products are sold to consumers online and in person at the Jagged Edge Mountain Gear store in Telluride, Colorado.
Being at the forefront of the American resurgence in small-batch local manufacturing (similar to what has happened with the micro-beer industry) and selling direct to consumers allows Jagged Edge to offer the very best technical apparel, made with the best materials, at a competitive price.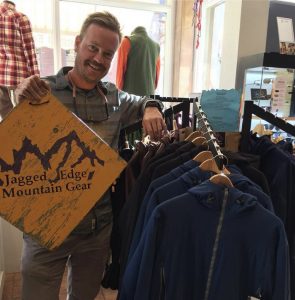 As Kurt Gray puts it, "Jagged Edge Mountain Gear, as an outdoor specialty retailer is "the real deal" and unique in the industry. It sources the hard to find, best specialty products globally while sewing what it can locally.  The shop presents an array of familiar and trusted names from across the technical outdoor market as well as the shop's own "Made in the U.S.A." apparel in an even-handed way.  There's no guilt, no judgement, no David and Goliath story.  You're free to choose how your dollars will work for you and then make a buying decision within a win-win retail environment."
Although the Jagged Edge offerings are currently limited, there has been recognition. Two designs were selected to compete for the APEX Award, an innovation based award given out by Polartec. There are plans to expand the line, creating additional technical and unique products featuring some of the best fabrics and materials on the planet, all made as close to Colorado as possible.
We hope you'll visit our website often and spend some time looking at the offerings in our online store.  We're very proud of what we are doing and believe that equipment you buy from us will perform and be cherished long into the future. 1