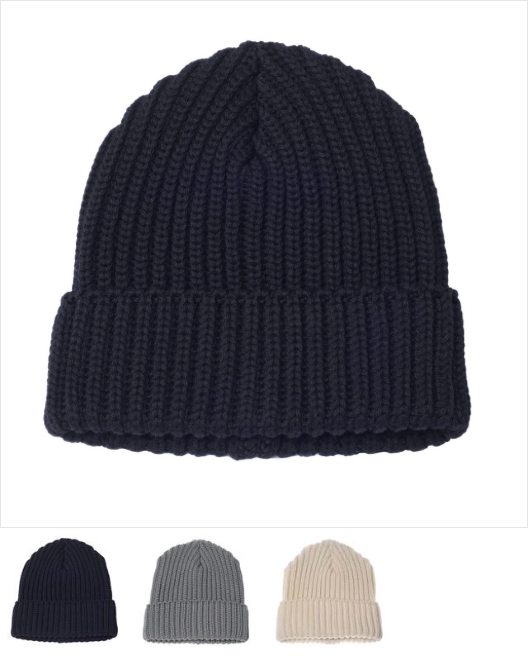 Icebox MFG recently finished a build of gorgeous Merino Wool hats for Nolin Hat Co.  Nick Lewis launched Nolin hats with this order of watchman style beanies using yarn from GOTS certified Imperial Yarns in Tygh Valley, Oregon.  "It's some nice wool! Excellent hand feel and a real beauty to knit with!" says Icebox Knitting Manager Nick Becker.
The Nolin Company was started by Nick Lewis when his second son Olin was born in 2016 with complications and an inability to feed.  Having to spend many days in the Neonatal Intensive Care Unit (NICU) the Lewis' realized that many other families are subject to the intensity of NICU as well.  For many days, 10 to be exact as all the baselining and test were being performed Nick was thinking of how he could help make the next families experience in the NICU a little more comforting.
Nick soon learned of the Baby2Baby project and decided to start Nolin beanies.  For each hat the Nolin Co. sells a newborn beanie will be donated to NICU families in need.  Baby2Baby is a great organization with some serious caring Ambassadors/Angels: Nicole Riche, Jessica Alba, Drew Berrymore, Kate Hudson, Julie Bowen and Rachel Zoe.

"NOLIN is the commitment to quality American products and the American artisan community. Our entire supply chain- from sheep to mill to manufacturing- is based in the US. Our wool comes from the Imperial Stock Ranch American Merino yarn program. Imperial Stock Ranch was the first ranch in the world to earn and carry the Responsible Wool Standard certification. We dye our wool at the only Global Organic Textile Standard-certified dye house in the country, Saco River Dye House in Saco, Maine. (Icebox) knit(s) our hats on hand-powered Dubied knitting machines."  so says Nick Lewis Founder of Nolin and also adds, "NOLIN is not here to make things cheaper or easier. We're here to make things better."