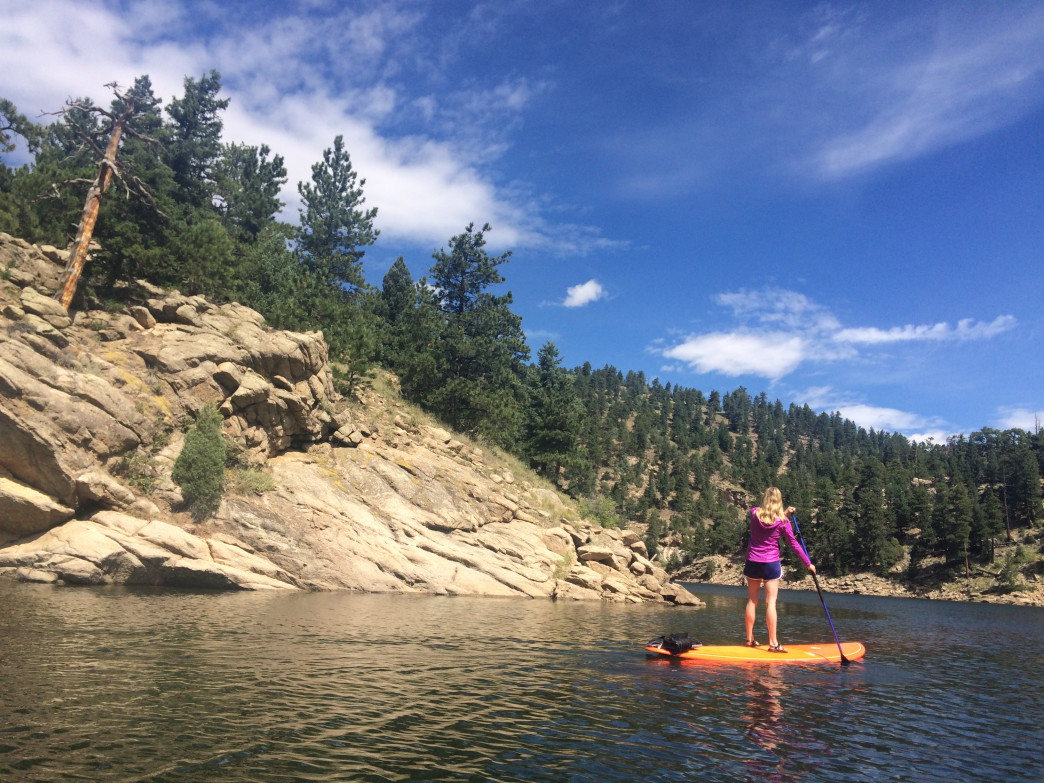 4 Great (and Unexpected) Places to SUP Around Boulder, https://rootsrated.com/stories/places-to-sup-around-boulder
Located on top of Flagstaff Mountain, Gross Reservoir is short 14 mile drive from Boulder.  The reservoir is named for Denver Water former Chief Engineer Dwight D. Gross, the reservoir was completed in 1954. It serves as a combination storage and regulating facility for water that flows under the Continental Divide through the Moffat Tunnel. Standing 340 feet above the South Boulder Creek streambed, Gross Dam contains some 627,559 cubic yards of concrete and surface area of 440 acres.1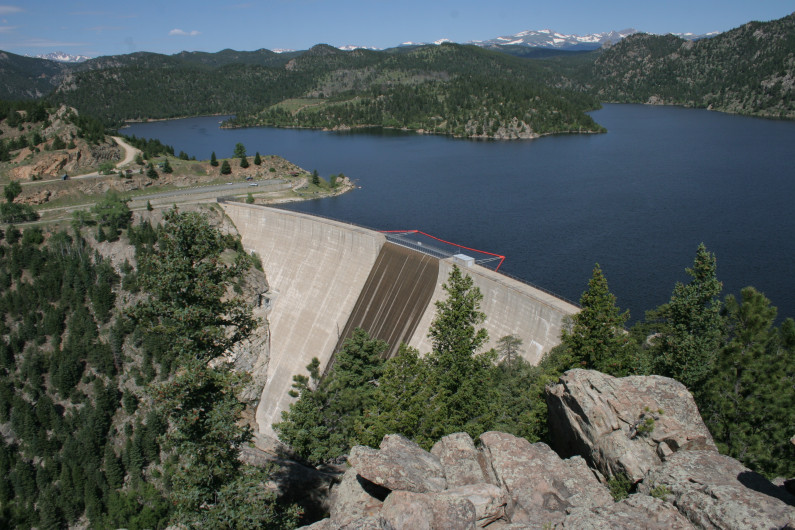 Gross Dam on its way to becoming the tallest dam in the state, https://www.denverpost.com/2017/07/08/gross-dam-reservoir-expansion-project/
Many years of closed surface water access has frustrated local area residents and limited the on water experience of the natural beauty along the 14 miles of shoreline.  The recent exciting news that Gross Reservoir, operated by Denver Water, opened for cartop boating has lead to a bit of a parking jam. The "organized" routine is to drive to end of the boat ramp dirt road, drop your gear and go find a parking spot up the hill.  It seems to work without much interactions from the super friendly park rangers.  Most notable when you arrive for the last ½ mile or so the place seems packed with parked cars on both sides of the road.  But once you are on the water the remoteness of the reservoir is immediate and it really seems no one is on the water.
This hidden Gem on the South Boulder Creek Drainage cuts its way through fantastic Granite rock outcroppings sculpted by Glaciers. with the recent approval for a hydroelectric generating license by the Federal Government Gross Reservoir opened the water to non-motorized boating. Including kayaks, canoes and rowboats, multi-chamber inflatables that can be carried to the water are allowed. Not permitted are sailing craft, sailboards, gas or electric motors, belly boats or trailered craft. The paddling season is Memorial Day through September 30.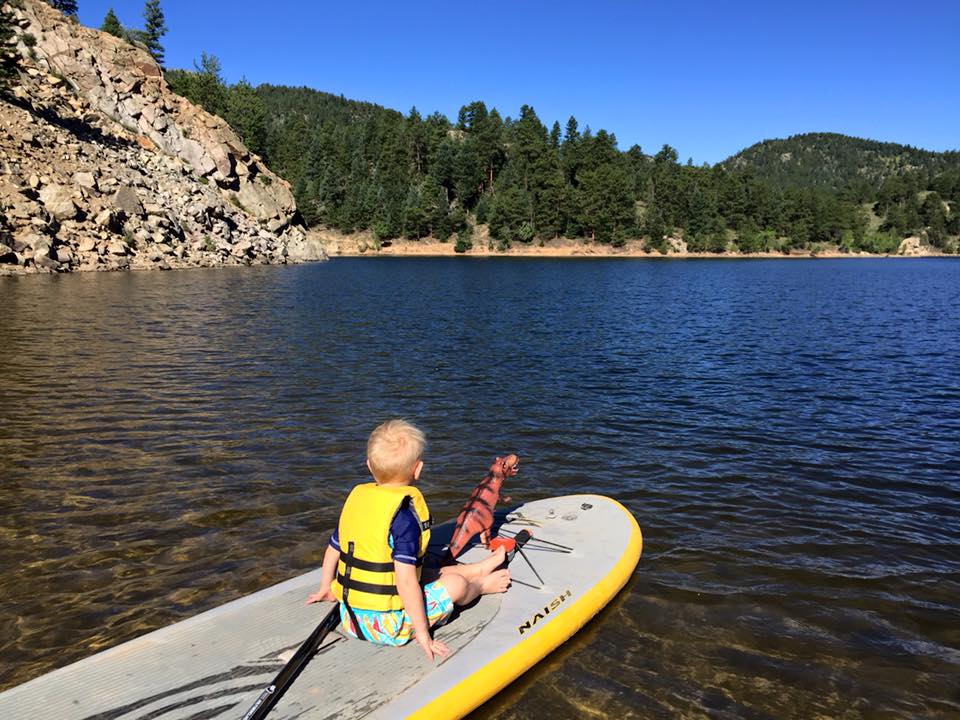 On the Water: Gross Reservoir, http://peakandpixel.com/2015/07/29/sup-gross-reservoir/
The setting at Gross Reservoir is fantastic, dominated by the snow-covered peaks of the Continental Divide, pine-covered slopes are accented by polished Granite outcroppings. With over fourteen miles of shoreline and several long arms the scenery is splendid. At over three hundred feet in depth and an altitude of 7500 feet, Gross is a cold water lake providing excellent trout fishing.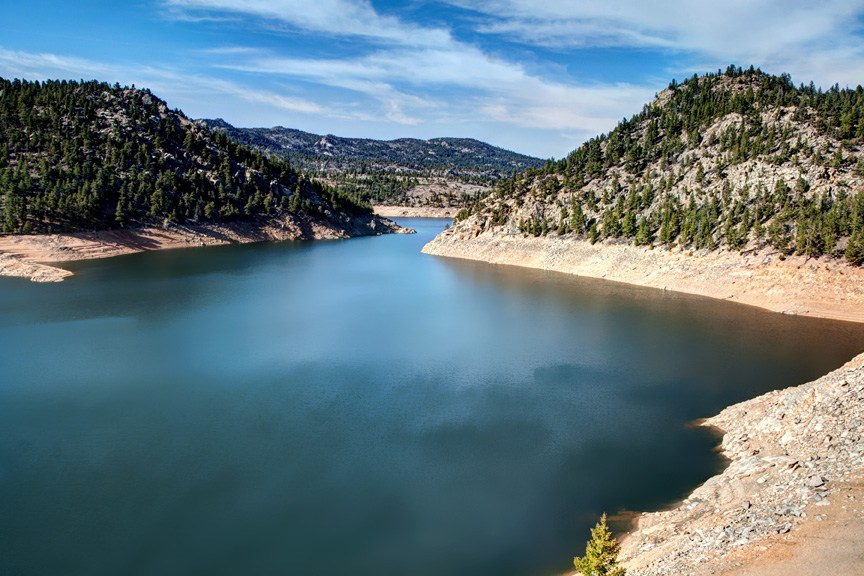 Gross Reservoir, South Boulder Creek Inlet, https://www.thetrailgirl.com/2013/05/07/gross-reservoir-south-boulder-creek-inlet/
Paddling here can prove challenging, especially when strong winds race downslope off the Divide or thunderstorms form quickly. The glassy surface can be transformed to whitecaps and gusts of wind exceeding 60 miles per hour within minutes. That combined with the very cold water poses risks for the unprepared, always wear your life vest and keep an eye on the weather.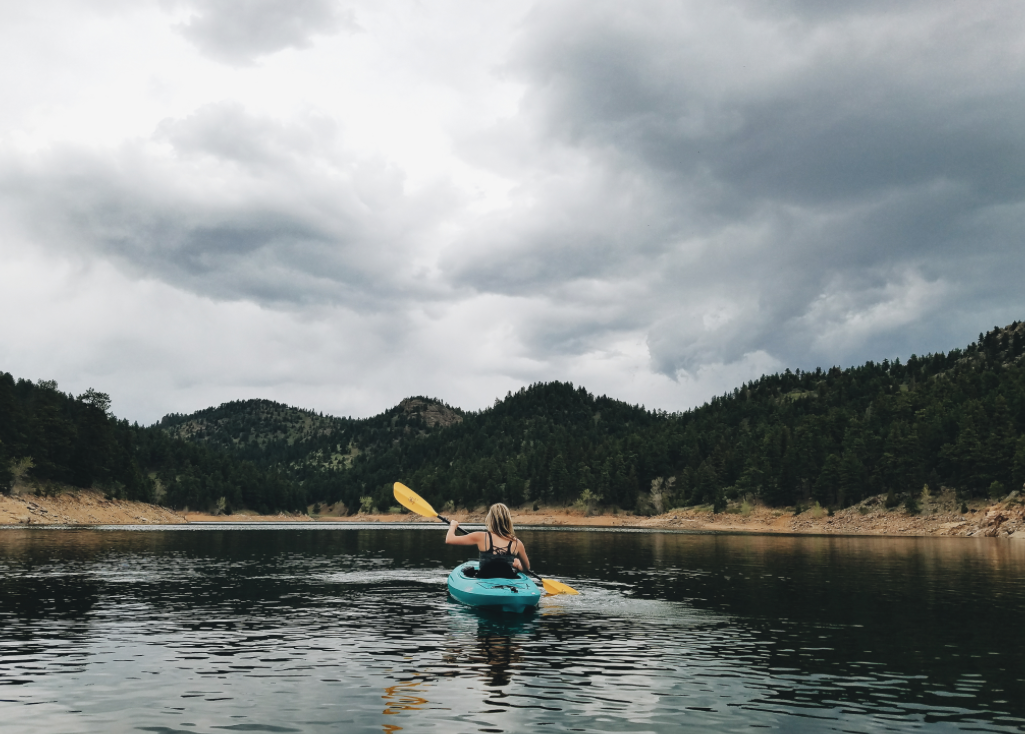 Gross Reservoir, https://www.outtherecolorado.com/destination/gross-reservoir/
A recreation manager is on site providing land and water patrols to aid the public and provide information and safety. The Reservoir is open from sunrise to sunset. Gross Reservoir is in a remote location with limited facilities, so come prepared with adequate supplies and clothing to meet the extremes in weather which can range from 85 degree heat to an icy hailstorm.2

Colorado Dam Expansion to Substantially Improve Water Supply, Reliability: https://3blmedia.com/News/Colorado-Dam-Expansion-Substantially-Improve-Water-Supply-Reliability
Gross Reservoir is one of 7 major reservoirs that serve Denver residents with fresh rocky mountain water!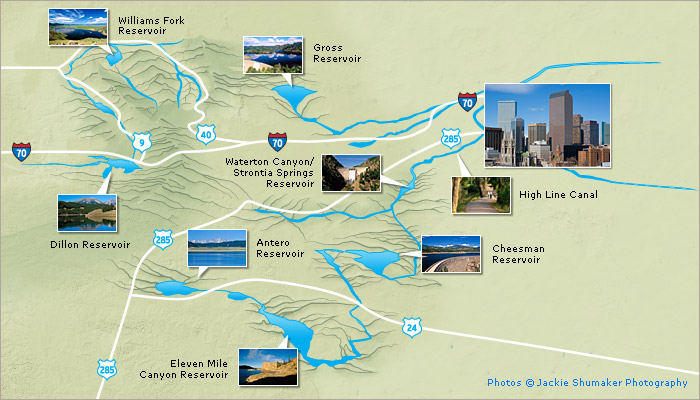 Denver Water drains Antero Reservoir to prevent evaporative loss, http://mountaintownnews.net/2013/03/18/bracing-for-a-water-short-summer/